2309b Encinal Ave. Alameda CA 94501
Home
IMPORTANT
These are instructions for artists that have already been selected to be a part of a Studio 23 Art Opening.
Entering work on the studio23gallery.com website does not mean your work has been accepted into a show. Entries can only be accepted via email per show. The instructions below are for artists who have already entered work via email and have also received confirmation that their work has been accepted.
1. Create your account.
2. Activate your email. Be sure to check spam.
3. Login to your account.
4. Select the link "Upload Artwork To Your Portfolio".
TIP:If you are using Chrome, save your password.
5. Enter your artwork's information, upload your work & save it.
Note "Use Whole Numbers Only" on the price.
Stear clear of any odd or special characters. Keep info as simple as possible.
Do not upload large files. The form will not accept HUGE files, 72dpi is fine.
6. When you've finished adding all of your work, select "Enter A Show" from the right side menu.
This screen will appear, select the appropriate show from the pull down menu.
NOTE: In this example we are selecting "Eat Your Heart Out"
8. Make sure you have the correct show selected in the drop down.
Checkmark the artwork to be listed in that show and select the "Add To Show" button.
Your screen should look like this...
Once you've added all of the artwork to the show, select "Print Tags" from the right side menu.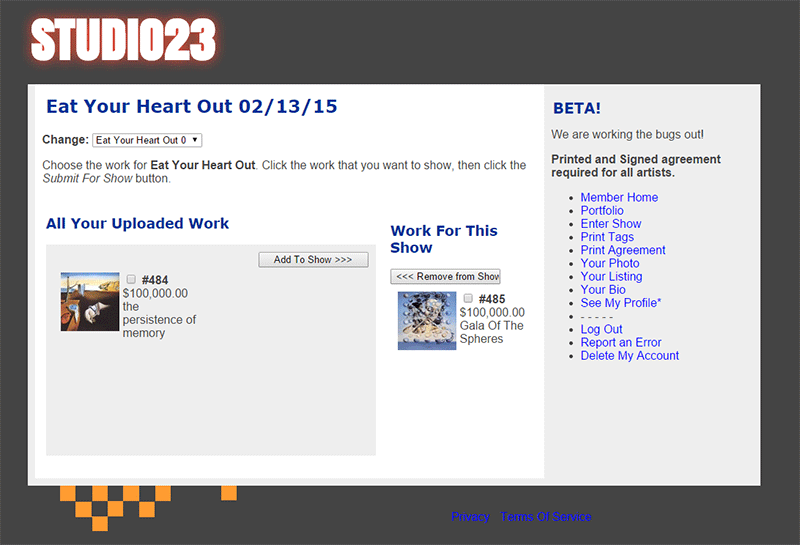 9. Make sure you have the correct show selected from the pull down menu and then select "Print".
10. Use your back button to see the full menu and select "Print Form".
Make sure to sign your form.
Bring both your signed form and tags into the studio for your drop off.
The instructions on how to attach tags should have been sent to you via email.
Thank you for taking the time to do this.
Studio 23 is a labor of love. When artists complete these steps we can work on other things, like promoting your work and making sure a lot of people come out to see it!
Forms & Tags
Trouble creating forms and tags online? Print and bring these using the instructions.
Form:
http://www.studio23gallery.com/html/STUDIO23ARTISTCONTRACT.pdf
Tags:
http://www.studio23gallery.com/html/tagsblank.pdf
See you at the next show!
© Copyright 2014 • Studio 23 Art Gallery is the home of the
Alameda Artists Group
and run by resident artists
Jessica Warren
and
Wesley Warren
. We are open every second Friday for the Alameda Art Walk, and for special events and classes.